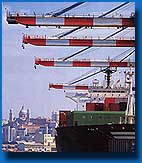 Euragent S.r.l. was established in 1971 in Genoa and is active both in the Liner and Bulk sectors as well as in the International Forwarding and Inland Transportation.
Gradually Euragent S.r.l. expanded to the other italian ports and inland locations and we are represented through our office in Genoa




- LINER DEPARTMENT:


We represent some large container carriers with weekly liner services to South-East Asia, East Africa , West Africa, Red Sea, Arabian Gulf and China.


- BULK DEPARTMENT:




The bulk department is representing a number of tramp Owners operating with oil, chemicals, bulk and general cargo






- LOGISTICS DEPARTMENT AND CONTAINER CONTROL: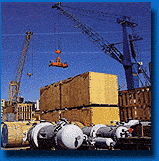 We have our own inland transportation and logistic department through which we can offer competitive intermodal rates, to our principals giving them considerable market advantage
The same department is also in charge of container control and inland terminals co-ordination.


- PORT OPERATIONS:





Our staff is following carefully the vessels under all aspects.Masters are assisted with a careful round-the-clock follow-up of loading and unloading operations, preparation of bay plans, stowage, crew matters, crude oil washing, etc..